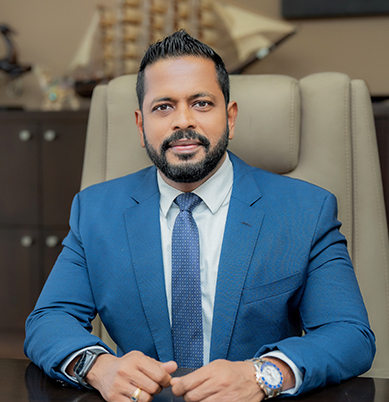 MR. THARANGA LANKA WEERAWARDANE
Tharanga Lanka Weerawardana is a leading entrepreneur and an outstanding business personality with over 25 years in experience of Executive Management. His experience is in the Management of Manufacturing and Marketing of cosmeceuticals, medical care, nutraceuticals and pharmaceuticals. His excellent leadership, experience, knowledge and professionalism have been instrumental in establishing Alaris Lanka (Pvt) Ltd which was incorporated in the year 2010 which has now grown in to a leading group of companies, namely Ace Healthcare (Pvt) Ltd and Hicare Pharma (Pvt) Ltd.
He is an enthusiastic, optimistic and future oriented entrepreneur with a strong determination to succeed.
His ability to focus and plan ahead using his leadership qualities along with his outstanding knowledge of the business, has paved the way to achieving a market share beyond expectations.
His passion in the business and with an aim to provide the people of our nation quality and effective healthcare products along with an excellent island wide distribution net-work had given the group a huge advantage over our competitors in the areas of cosmeceuticals, nutraceuticals and pharmaceuticals.
Tharanga Lanka Weerawardana is a leader with a clear vision. He has led the Group with integrity, responsibility and excellent leadership qualities. He has the ability to overcome challenges and move forward in this ever changing competitive world. His determination to succeed has paved the way to making his vision to be the leader in healthcare, a reality.